Fire Police Fairness Act
Posted:
May 12, 2015 2:21 am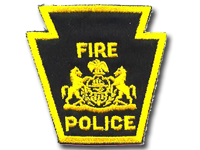 H.R. 1828 was introduced on May 6, 2013 by Congressman Joe Courtney (CT-2).
S. 876 was introduced on May 7, 2013 by Senator Richard Blumenthal (CT).
H.R. 1348 (112th): Fire Police Fairness Act
Summary: The legislation would extend coverage under the Public Safety Officers' Benefits (PSOB) program to fire police officers.
05/12/2015
Steer Clear Law Enhances Roadside Safety