CCFPA Awards Picnic 2013 – 05/05/2013
Posted:
August 7, 2015 11:40 pm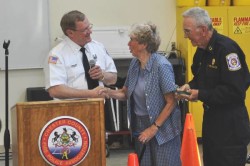 The Chester County Fire Police Association (CCFPA) held their annual Awards Picnic on Sunday May 5, 2013 at the Public Safety Training Center. This well attended event is intended to serve as a thank you to all Chester County fire police for their countless hours of dedicated volunteer service to their communities.
  The keynote speaker for this year's awards picnic was Ryan Costello, Chair of the Chester County Commissioners. Commissioner Costello expressed his appreciation for the invaluable service that fire police and all volunteer first responders provide to our county.
  Other dignitaries attending the event included Commissioner Terrance Farrell, DES Director Ed Atkins, DES Assistant Director Beau Crowding, PA Senator John Rafferty, and PA House Representatives John Lawrence and Chris Ross.
  The highlight of the awards picnic this year was the recognition of Fire Police Captain Bob Massey and his wife Louise as the Chester County Fire Police Officers of the Year for 2012! Bob and Louise have over 89 years of combined service to the Avondale and West Grove fire Companies. Their dedication to the fire service is remarkable. They are the first couple to ever be named as Co-Fire Police Officers of the Year.
  The CCFPA extends our most sincere thanks to PECO and Belfor, our corporate sponsors for this annual event. Without their support, we would not be able to provide the excellent food and awards that we present to our members. When you see their representatives, please thank them for their years of support.
05/12/2015
Steer Clear Law Enhances Roadside Safety
08/17/2015
"Headlight" laws enacted in Pennsylvania